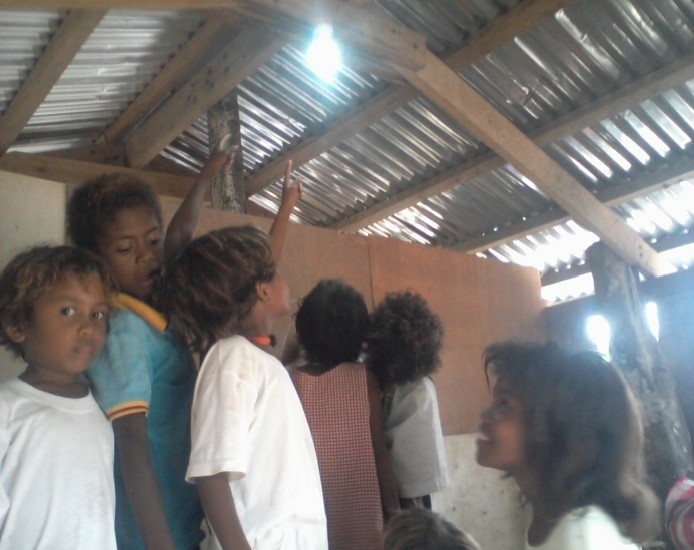 Sitio Disigisaw, San Ildeonso, Casiguran Aurora
SolarSolutions Inc. with Fr. Jose Francisco Talaban of Bianoan, Casiguran installed a 30 watts off-grid solar energy system in a small community known as "Sitio Disigisaw" in San Ildefonso, Casiguran, Aurora province. Disigisaw is a small community of 57 families with 49 of them are Agta-dumagats.
During the installation, the two teachers and other dumagat that has cell phones shared that sometimes they suffer two to three weeks without a communication from their love ones because their cell phone runs out of battery. They usually have a charge in the opposite side of Casiguran sound in barangay Esteves or in Dinalungan to where the power utility grid is available. It will take them an hour to reach the opposite side using pump boats (motorized bangka) and it is very expensive. Other option is to walk and climb across the mountains for eight hours to reach the Casiguran town proper.
The solar power system is installed at their school found in the center of the community and is use for lighting by the two teachers during night time to prepare lessons and tutorials for special students. It is use also for charging cell phones by the community.
The most moving moment happened when we are about to finish the installation. Ma'am Grace, one of the teachers took her battery operated portable radio and played a Tagalog Christmas song entitled "Star ng pasko". Together with her students (dumagat childrens) they sang the chorus very loud and very sincere. The lines that move us much are as follows: "Ang nagsindi nitong ilaw, Walang iba kundi ikaw, Salamat sa liwanag mo, Muling magkakakulay ang pasko".
Truly this experience makes us feel so blessed and be more motivated to do project like this. A small project that brings hope and new life to the Agta-Dumagat in the other side of the world.